Popular culture has been impactful and able to cause change worldwide. Case in point, it was the year of the social movements, self-love, and using humor and entertainment to help others. 2017 was a big year for many reasons, but in general, the community building and bonding were beginning to grow after divisiveness started to tear the country apart last year. In this piece, I will examine the various blogs that my classmates posted that show how popular culture and things that we love can make the world a better, more united place.
In Michaela Deck's blog post on "How Rick and Morty Make The World A Better Place" Deck used one of my favorite shows to show its impact on society. The show is not just made for cynical humor or for teenagers to watch while they are getting stoned, but it features valid messages about life and society. I find that Rick and Morty have been one of the few shows that illustrates actual life lessons that are not entirely problematic while also being funny.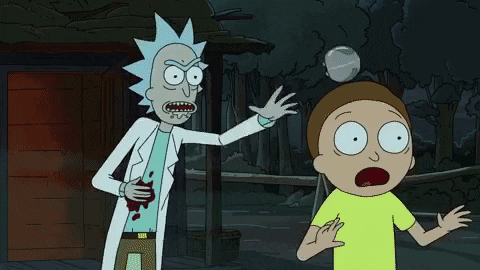 In the beginning, Deck mentions the "elitism and ignorance" that can occur "in any fandom." This is undoubtedly true and reigns especially true today. I noticed this with Rick and Morty but also in other popular culture fandoms. Celebrities have fandoms, like Lady Gaga, that will attack anyone on social media that is critical of their idol. This sense of complete idolatry and being out of touch with reality is what makes some fandoms toxic. However, I would argue that fandoms produce great qualities and a sense of camaraderie for people who wants to feel social connection and passion about what they love with others.
Furthermore, in Rick and Morty there is an excellent message for our generation that Deck points out which is a love of science and education. This passion, as Deck points out, is necessary, especially in our current political climate and falling educational standing in the world. Rick and Morty also have messages about letting go and being more at peace with ourselves. Many of us are too consumed with work and school to realize how important other aspects of our lives are like family, love, and happiness and that we need to cherish those. It also focuses on important issues like mental illness and how detrimental it can be to our being. It is necessary to take care of these problems and to get help when we need it. Rick and Morty just continue to illustrate the good that popular culture and fandoms can do for this generation. The entertaining and easily digestible content is what makes the show brilliant while bringing up important life issues.
Anna Sawtelle examines "Body Positivity in Fashion" and the vital need for this after years of body negativity being the norm and status quo. I have been researching gendered bodies in advertising and fashion for years, and every year I see improvements from when I was first starting to notice the importance placed on a woman's size at a young age. Anna Sawtelle's piece looks at how much things have changed in recent year with body positivity and not just appreciated larger body types but ALL body types. Popular culture has become an essential tool for a call to action to society to stop teaching woman and girls to shame each other for their bodies and for society to accept that every shape is beautiful. Popular culture can shape these societal views in a way that makes everybody and their flaws accepted.
In the subsequent parts of the blog, Sawtelle looks at how new body positivity campaigns in the fashion industry are opening up and changing the way they view models and women. One part that struck me was Jasmine Tookes' "Unretouched Fantasy Bra Photos." Sawtelle mentions that women of larger sizes are obviously part of this body positivity campaigns but so should women who are, according to society's standards, skinny. Ms. Tookes' stretchmarks are visible in this unretouched photo in her Victoria's Secret campaign. I think it is important also not to shame skinner women who are naturally thin, especially as our society is moving towards standards that emulate the curvy bodies of women like Nicki Minaj and Kim Kardashian. My mind always goes to Nicki Minaj's problematic lyrics in her "Anaconda" song where she says, "F*ck the skinny b*tches in the club… f*ck you if you skinny b*tches, what?" Lyrics like these continue to add to the problem of body negativity and help society move in another direction that marginalizes and discriminates against particular bodies again.
Sawtelle believes we are moving in the right direction for body positivity and thinks that the fashion industry is essential in trying "to make a difference in the way women feel about themselves" (Sawtelle). Popular culture is used here to advertise that "normal" is sometimes contrived and that not all women look like these models in the magazine and on the screen. Popular culture gives representation to others who do not represent this "norm, " and these fashion campaigns can push this idea and change these standards for the betterment of women and their lives.
Wrapping it up, I am going to take a look at Paulina Perkaus's second blog post, in which she also discusses the #MeToo campaign and movement. I had also previously addressed this in one of my blog posts for "Feminist Friday- A Look At The #MeToo Movement, " and it continues to be a topic of fascination for me. Perkaus's eloquent writing and look into the actual creation of the #MeToo campaign was a necessary read for me and many others to further our knowledge about a profoundly complex movement that has changed the lives of many survivors. Continued and steady exposure of the #MeToo movement is crucial to transforming the silence around sexual assault and harassment.
Popular culture like social media has been able to aid and create a transparency that unites survivors of sexual misconduct in unprecedented ways. Social media has been able to facilitate this accountability of the accused even if the criminal justice system is slow to help. The connection makes victims feel less alone, and we can see social media's impact for that reason alone.
Perkaus first looks at the person who created the #MeToo campaign, Tarana Burke. Burke's story of being a survivor and listening to another survivor's story and saying to herself "me too" launched a movement that resonated with countless women and men. The phrase "me too" is simple, blunt, and full of meaning that can help bond survivors as they continue their journey through life. The phrase is perfect for a hashtag that can be incredibly transformative through social media and various physical campaigns.
Then, Perkaus examines the effects of celebrity involvement in the movement and the staggering amount of survivors employing the #MeToo. "According to CBS News, the movement saw 1.7 million posts throughout 85 countries" (Perkaus). Similar to my post, she mentions how the rich and powerful like Kesha and Taylor Swift faced these issues as women and were able to find justice one way or another. Whether it was through music or the actual judicial system, it made victims believe it was possible to speak out against the accused. Social media was able to spread these stories and help these survivors get their stories out to others and to be role models. These celebrities were able to employ social media to bring attention and cause change against gendered violence effectively.
Social media has a lot of faults, without a doubt. However, it also has the potential to evoke incredible and necessary change from the current world we live in today. The Black Lives Matter Movement was able to use social media to their advantage. They connected with people who wanted to invoke change, hold protests, and spread information about various injustices to the black community including police brutality. This movement changed racial politics in America. Now, The #MeToo movement is on the same path. Social media was able to hopefully create social change in the arena of gender politics and gendered violence. Men and women have been able to stand up and support survivors through these social media platforms and hold many of the accused accountable. Whether its Harvey Weinstein, Bill Cosby, John Conyers, Bill O'Reilly, and countless others, they are finally being held responsible for their actions and for making men and women feel unsafe in this world. As I am writing this, there was an announcement that Time's Person of the Year are the "silence breakers" of the #MeToo Movement. Without a doubt, they sure as hell deserve it. In addition to the #MeToo movement, these fandoms like Rick and Morty and the body positivity campaign all were able to use popular culture to make the world a better place. It united people and their tastes, preferences, and desires for change. Social media was undoubtedly the most critical facilitator for all these topics.
Sources:
https://www.polygon.com/2017/6/26/15873642/rick-and-morty-season-three-delay-fights-harmon-roiland
http://www.dorkly.com/post/85187/15-rick-and-morty-cosplays-good-enough-to-cure-your-nihilism
http://subversify.com/2017/10/19/metoo/
http://www.harpersbazaar.com/culture/politics/a13091573/backlash-metoo-movement/
https://www.nytimes.com/2017/10/20/us/me-too-movement-tarana-burke.html
https://www.theodysseyonline.com/on-black-lives-matter
http://time.com/time-person-of-the-year-2017-silence-breakers/
https://www.billboard.com/articles/columns/pop/7857746/kesha-returns-praying-video
https://theculturecritic.wordpress.com/2016/11/06/why-the-body-positivity-movement-isnt-really-that-positive/
https://ansa9349.wixsite.com/worldoffashion/single-post/2017/11/28/Body-Positivity-in-Fashion
https://fandom3246.wordpress.com/2017/11/10/blog-post-2/
https://michaelablogweb.wordpress.com/2017/12/02/how-rick-and-morty-makes-the-world-a-better-place/